As many of you know, EtsyBABY team members are extremely talented. We wanted to take a peek at the person behind the creativity. All throughout March, we will be interviewing shop owners, to get a glimpse of the designer behind those adorable baby products!



Meet
Natalie from Owesley
My name is Natalie Sularski. I am the owner, maker and designer of Owesley, a colorful blanket boutique. I spend my days and nights raising my two rambunctious little boys, Owen and Wesley, and fulfilling my dream of having my own business. My boys are my heart and soul and definitely my inspiration. After all, the shop is named after them! You can find us at www.etsy.com/shop/owesley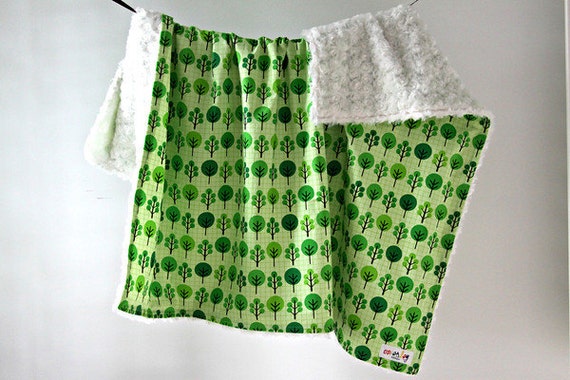 Large Baby/Toddler Blanket, Green Trees with
White Minky Swirl, Ready to Ship $54
What inspired you to begin a shop featuring your own designs?
One of many things that bring me joy is giving a great gift -- a gift that has thought and meaning behind it. While I was pregnant with Wes I started making blankets for my pregnant friends. It was something I have always loved doing and had not had time for -- in what seemed like ages! I threw myself into my craft and before I knew it, I had more blankets than friends with babies! With the support of my family and friends, I decided to open up my shop.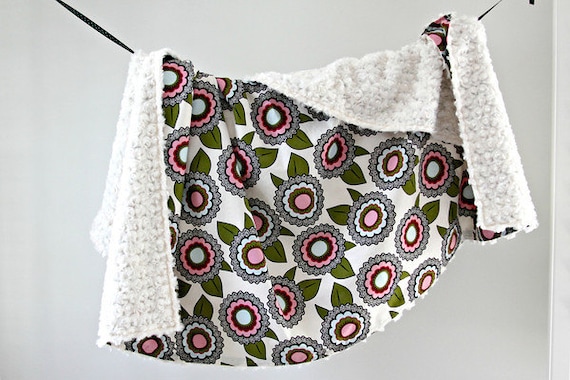 Extra Large Youth Blanket, Morning Flower
with Ivory Minky Swirl, Ready to Ship $90
How long have you been practicing your art/craft &
what training have you had or are you self-taught?
My mother taught me to sew when I was younger and still continues to give me advice. I definitely could not have accomplished what I have without her knowledge. Her support and faith in me has gotten me to the place I am today.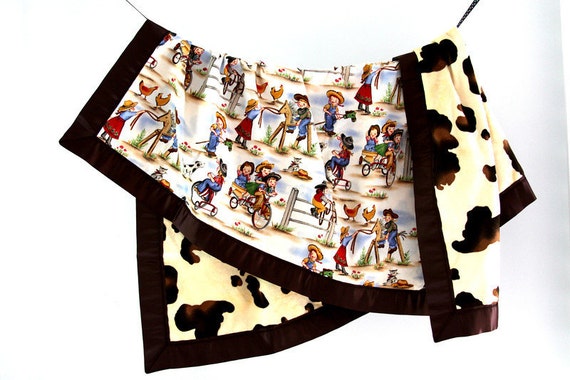 Large Baby/Toddler Blanket, Lil' Cowgirl with Pony
Minky and Brown Satin Trim, Ready to Ship $60
What is your favorite material to craft with?
I love picking out fabrics and matching patterns and designs. Shopping for fabric is a major weakness for me, but sewing and creating with my purchases is a huge reward. The best part is seeing an Owesley blanket being used and well loved.
What has been the hardest aspect of creating a hobby into a business?
Turning my hobby into my business has been so rewarding. Not a day goes by when I don't browse other shops on Etsy. I am in awe of the amazing people who have accomplished so much by doing something they love -- all while providing for their families. Etsy is an amazing environment and marketplace. I am beyond proud to be a part of it.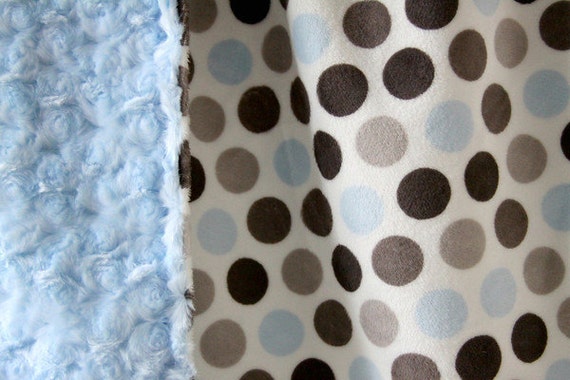 B
aby Blanket, Blue and Grey Dots with
Blue Minky Swirl, Ready to Ship $44
What do you enjoy doing in your off time? Describe a typical day in your life.
As a mother to young children, "off time" is rare. I enjoy a good book and a date night every once in a while with my husband. Mostly though, a good night sleep would be amazing! A typical day in the Sularski house starts with trying to get everyone up, cleaned, dressed, fed, out the door, and Owen to school. All with coffee in hand. Running errands ensues and then back for Wesley's nap and my time to work on Owesley. After nap, it's time to get Owen and take him to swim, soccer or whatever activity he has scheduled. Then we head home for dinner, baths, play and bedtime. After spending some time with my amazing husband I likely head back to work on whatever adventures Owesley has brought my way. I love to be busy and wouldn't have it any other way. I feel that while pursuing my dreams I am teaching my kids the value of hard work.
Where can we find your products online?
You can find our cozy blankets on Etsy
Also, you can follow us on facebook and twitter for updates, new listings and events.