As many of you know, EtsyBABY team members are extremely talented. We wanted to take a peek at the person behind the creativity. All throughout March, we will be interviewing shop owners, to get a glimpse of the designer behind those adorable baby products!

Meet Jennifer from Prettiest Print Shop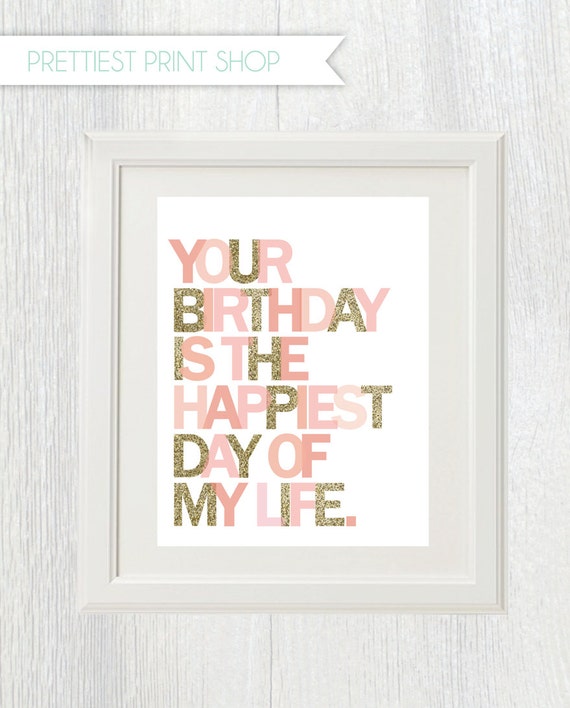 Printable nursery art - Your birthday is
the happiest day of my life - Pink and gold -
First birthday party - Nursery decor -
Customizable $12
What inspired you to begin a shop featuring your own designs?
I had been tossing around the idea for a couple of years, and just feeling unsure of how the entire Etsy thing worked and if it was possible to really make a living this way. Once I had my daughter in 2012, it was not financially possible for me to stay at home with her full-time and returning to work after maternity leave was devastating for me. I knew that I would need to find some way that I would be able to stay at home with her but also be able to help support my family. I have always been extremely crafty and am a graphic designer by trade, so it is only natural that I went all out when planning her 1st birthday party. I created all of the paper goods myself. With so many of these items designed, plus pictures of the party, I felt like it was finally the right time for me to try out the Etsy thing. I got my first large order for the complete party set about a week later and I was hooked! Things have steadily grown from there and I couldn't be more grateful!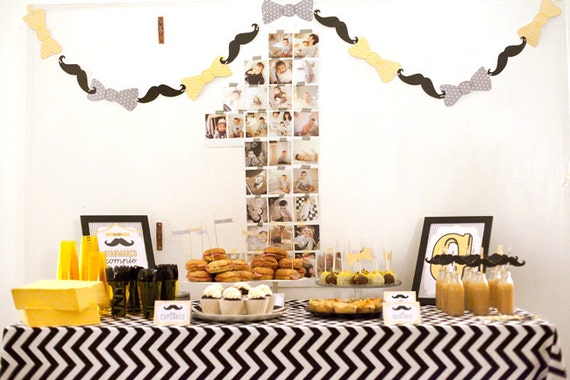 Little Gentlemen invitation - Mustaches and
Bowtie party - First birthday -
Boy Birthday party - Baby shower $18
How long have you been practicing your art/craft?
My entire life. I always had some sort of art project going on when I was a kid (my favorite thing was creating super-complex artwork with images I found in magazines...this was probably an early form of graphic design sans computer). In high school and college I really fine tuned my graphic design skills through various projects and classes. I have worked professionally in publications for the past 5 years.
What training have you had or are you self-taught?
I am self-taught. Creating things is very fulfilling to me, so I have always sought out opportunities to develop those skills and you really do learn by doing!

What is your favorite material to craft with?
I am most confident with my ability working with Adobe Illustrator. I love dabbling with physical art as well, but it intimidates me more because there is no control Z! :)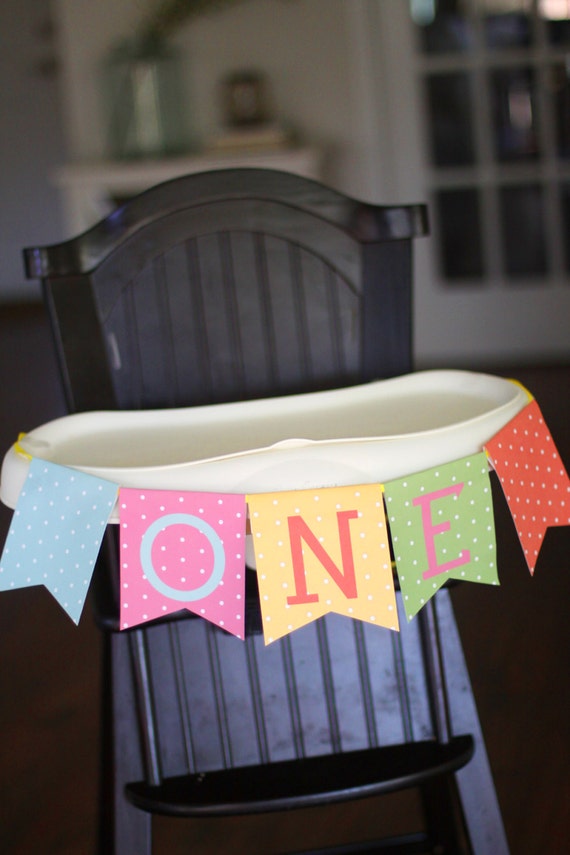 Printable high chair banner - One - Pennant banner
- Polka dot party - Sprinkles party - Confetti party
- First birthday - Customizable $12
What has been the hardest aspect of creating a hobby into a business?
The hardest part for me is that I feel like everything falls on my shoulders. My husband tries to help as much as he can with cutting, packaging and shipping, but in the end, I am the only one who can design the items. I've had a lot less sleep since I started this business (working until 3 a.m. is pretty much the norm at this point), but it is allowing me to quit my day job in a couple months, so it is all worth it!
Any advice to share for other Etsy sellers?
My advice is to follow your gut. Put out items that you love and you would want to buy, and usually there is a market out there that is looking for the exact same thing. I also think that it always is better to design with a real purpose (an invitation and other items for an actual party, for example) rather than just creating items to stock your shop. I've found that the things I created just to stock the shop usually don't sell as well. This falls back to the notion that if one person is looking for it, someone else probably will be as well!
What do you enjoy doing in your off time?
I love decorating my house, working on DIY projects (we just refurbished my childhood playhouse for my daughter's Christmas gift...so fun!) and generally just spending time with my sweet and silly daughter!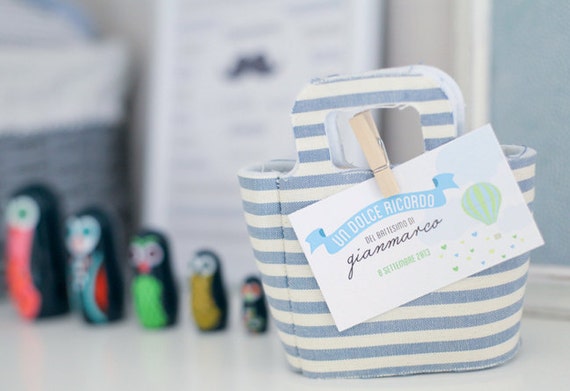 Printable thank you card - Favor card - Hot air balloon -
Cloud - Rain - Hearts - Baby Shower -
Baby Sprinkle - Customizable $10
Describe a typical day in your life.
Wake up, check the iPad to see what messages have accumulated over Etsy overnight, try to squeeze in sending as many print files and new proofs to customers as I can before I have to get me and my daughter dressed for school and work. Go to work, try to focus, answer Etsy messages when I have a spare moment, take a lunch break and work on any pressing orders at that time, back to work until 5, pick my daughter up from daycare, get dinner going and spend quality time with my daughter and husband until she goes to bed around 9, then it is straight to the computer I go to work on orders until I absolutely cannot keep my eyes open any longer and off to bed I go to start the whole cycle over again tomorrow!

Where can we find your products online?
Prettiest Print Shop