As many of you know, EtsyBABY team members are extremely talented. We wanted to take a peek at the person behind the creativity. All throughout March, we will be interviewing shop owners, to get a glimpse of the designer behind those adorable baby products!

Meet
Christy
from
E & LuLu
Little Sister gown, Little sis sibling girl bodysuit,
matching hand embroidered toddler shirt,
little sis/Big Sis, little bro/big bro $28
What inspired you to begin a shop featuring your own designs? My 2 kids(Ethan 6-Lucy 3)both loved blankies when they were younger and I couldn't find cute blankies with fun and wild fabrics.

How long have you been practicing your art/craft? I started my small business in January of 2011 for family and friends and then opened up my Etsy shop in Feb 2011.
What training have you had or are you self-taught? I got lessons of sewing from my mom and grandma, but didn't listen, haha. I had an urge to buy a sewing machine with my Christmas money in 2010 and I got a free class with the purchase of my sewing machine. But with my styles and new ideas are all me. I bought a pattern once before and I thought this was too much so I made it on my own. So no patterns at my house!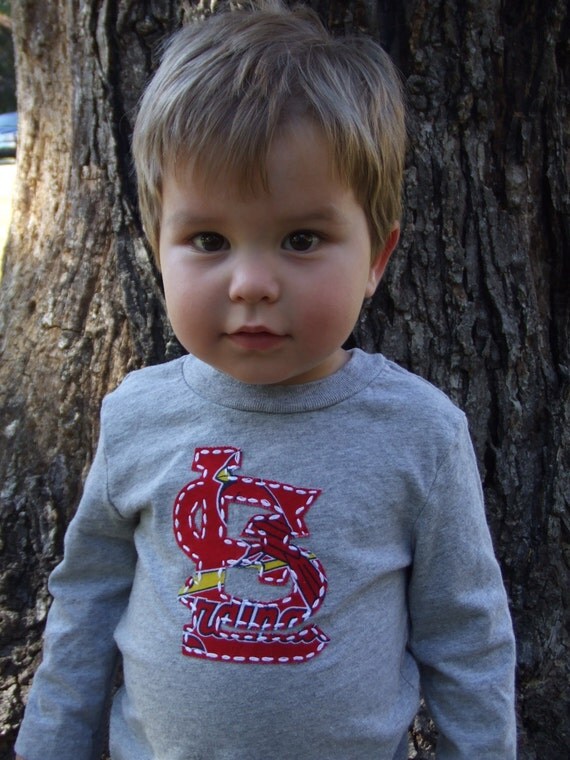 STL Cardinals hand embroidered
shirt, St. Louis Cardinals fabric $25
What is your favorite material to craft with? New cotton fabrics are amazing! I love to add to my fabric stash and get excited when I have to go to the fabric shop or get a package in the mail with new fabric.

What has been the hardest aspect of creating a hobby into a business? Etsy was a bit challenging at first with not a lot of sales and trying to get noticed, but once I got the hang of what words to use and more items in my shop, I get sales everyday!
Any advice for other Etsy sellers? Make sure you have great key words and double check your expired listings before you renew them. Also, your pictures are key! good pictures = sales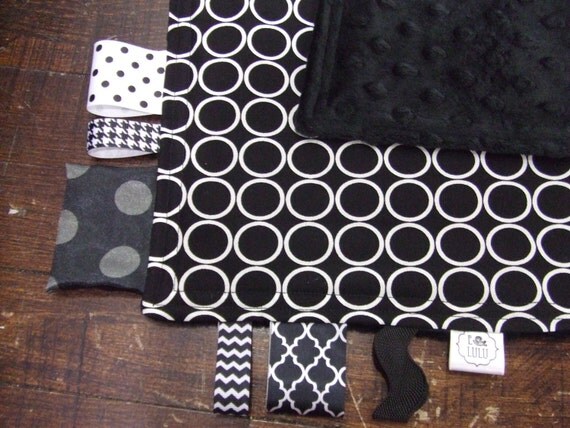 Black and White Tag Blankie $18
What do you enjoy doing in your off time? Free time?? What is that? haha I make baby items, my mom and I own a brick+mortar gift shop called Local Lucy's with over 90 local artists and vendors, 2 crazy kids, and a room mom. I don't think I could do this all with out my great husband, Noah. If you see me out and about, I always have my box with a gown or shirt ready to be hand stitched.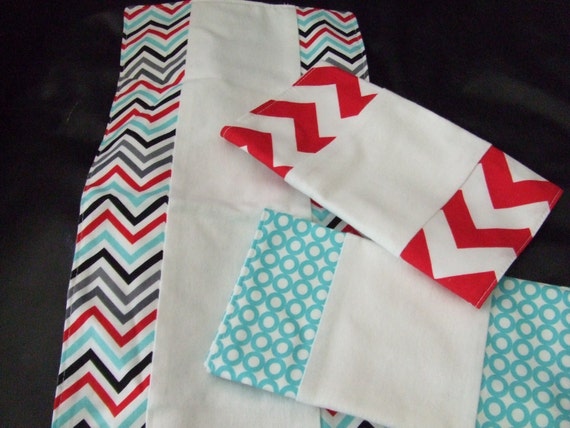 Single Burp Cloth, Customize Burp Cloth of your choice $6
Describe a typical day in your life. A day in my life.....wake up a 7, take kids to school, emails and get shipping ready to be mailed, go to Local Lucy's by 10 am, wrap up shipping items, deal with vendors, customers and my daughter Lucy until 12:30. My mom takes her to school then I send out emails and maybe sew a bit. Work until 5 and sometimes have a meeting. Go home and my great husband has dinner ready, I walk in just in time to sit down to eat, homework with my son, baths, bedtime books then bed for them, then E & LuLu is busy. I work on orders until about midnight or so then to bed.
Where can we find your products online?