As many of you know, EtsyBABY team members are extremely talented. We wanted to take a peek at the person behind the creativity. All throughout March, we will be interviewing shop owners, to get a glimpse of the designer behind those adorable baby products!

Meet
Rachel from
Rachel's Kids Boutique
What inspired you to begin a shop featuring your own designs?
I began selling baby gifts when a friend suggested I try to make a diaper cake. I didn't have anyone to give it to so I sold it on eBay. I started the auction at a penny and the the price went much higher than I ever dreamed possible. The rest is history. After selling on eBay for several years, I heard about Etsy and wanted to give it a try. I like Etsy better since it is more like a craft expo than a yard sale.
How long have you been practicing your art/craft?
10 years.

What training have you had or are you self-taught?
Self-taught

What is your favorite material to craft with?
Baby items, tulle, ribbon, lace and gems.

What has been the hardest aspect of creating a hobby into a business?
Getting traffic to stores.

Any advice for other Etsy sellers?
Hang in there! Design beautiful products with a "wow" factor and buyers will find you.
What do you enjoy doing in your off time?
Coming up with new designs or learning new things (like photoshop!!). I love to read.
Describe a typical day in your life.
I am a busy work-at-home, homeschooling mom of 6 children (all girls by the way!). I get up at 5:30 am with my husband. I have quiet time while he works out for 30 minutes and then I exercise on an elliptical machine in our basement for 30 minutes while he has quiet time. I shower, get dressed, and get my two youngest girls dressed by 7:00 am.
I fix eggs or green smoothies for breakfast and start homeschooling by 7:30 am. I am currently homeschooling a kindergartner, 4th grader, and 6th grader. My oldest is a college student and the next oldest is a senior in high school so they are pretty much on their own. We work for 2 hours solid and then take a break while I take my 2nd oldest to work or to a class at a local community college. We continue working until lunchtime and then I put the two youngest down for a nap.
I work on tutus from approximately 12:00 - 4:00 each day. My middle two girls help watch my youngest two. Several of us will go to the Y or sports practice in the late afternoon and then we usually eat dinner together as a family around 6:30 pm. We have baths, and a family devotional time before heading to bed around 9:00.
As you can see, I wouldn't be able to manage this without very strict time management techniques and having my girls help. :-) I use the principles from Brian Tracy's book Eat That Frog. I use time blocking and focus on the important things first. God first. Family second. Business third.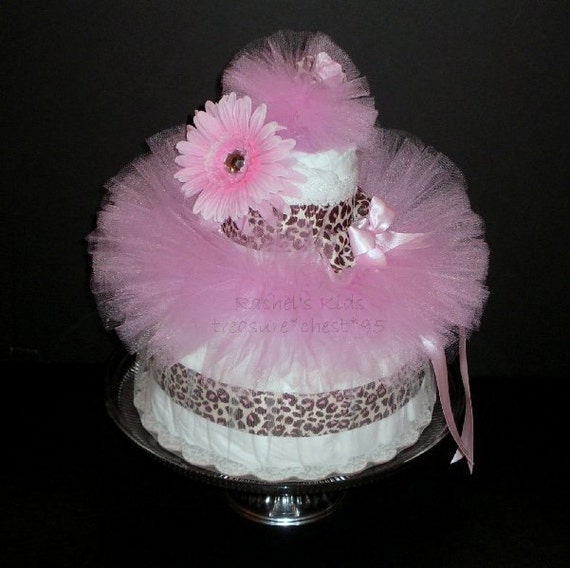 Pink & Brown Animal Print Diaper Cake $85.00
Where can we find your products online?
eBay
Etsy
Facebook
Twitter